The CPFF is proud to announce another great victory for Colorado Firefighters!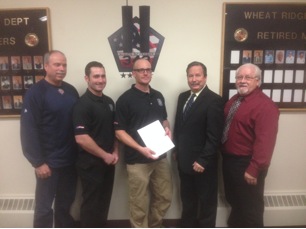 Left to Right: CPFF President Mike Rogers, Local 4881 Secretary-Treasurer Dean Karamigios, Local 4881 President Ryan Harris, Director and Board President Jerry Cassel, and Director Kent Johnson.
The CPFF is proud to announce another great victory for Colorado Firefighters!
At the Wheat Ridge Fire Protection District board meeting on December 17th, 2014 the directors voted unanimously to accept the first ever collective bargaining contract between the Wheat Ridge Firefighters Local 4881 and the District.
Using the provisions of Senate Bill 14-25 (The Colorado Firefighter Safety Act) local leadership negotiated collaboratively with Wheat Ridge Fire Chief Bob Olme to develop a mutual agreement that works for both sides.
At the public board meeting both District Board President Jerry Cassel and Chief Olme thanked the leadership and members of Local 4881 as well as the CPFF for their assistance and cooperation. "I would like to thank Bargaining Committee members Dean Karamigios, Greg Mular, Ed Thompson, Anthony DiTullio, and Matt Marfil for their hard work building and negotiating this contract," said Wheat Ridge Local 4881 President Ryan Harris.
President Harris also thanked Chief Olme for his collaborative efforts as well as the Board of Directors for their willingness to support the agreement. He feels it is in the best interests of the citizens of the district and the livelihood and safety of the firefighters.
Highlights of the contract include the following statement, "It is the purpose of this agreement to achieve and maintain a cooperative and effective relationship between the District and the Union. The parties believe that having skilled firefighters who are treated fairly with respect to pay, benefits, and working conditions is in the best interest of the citizens of the District." The contract also includes a much needed grievance procedure, recognition, impasse resolution language from Senate Bill 14-25 (Colorado Firefighter Safety Act), a complete compensation and benefits package, and a minimum staffing clause.
This one-year contract includes Firefighters going from minimum wage with no medical or pension contributions to $13.37 an hour with medical and pension benefits. The funding for these increases come from a mill levy increase that takes effect soon. Along with planning and financial assistance from the CPFF the members of Local 4881 worked hard on getting the vote out to insure that the mill election was successful.
A copy of the complete contract will soon be available on the website www.cpff.org under member resources.
Lobby day at the Capitol


February 10th is Firefighters Lobby Day at the State House. This is a good opportunity to meet your local legislators and discuss firefighter issues with them. Interested members should wear dress slacks and a collar shirt ( CPFF or one from your local). We will meet in the basement at 9 am for a briefing, and then head up do talk to the elected officials.
Firefighter Behavioral Health Alliance


Firefighter Behavioral Health Alliance and Captain Jeff Dill present the workshop: Saving Those Who Save Others Suicide prevention & awareness March 2, 2015 8am ?12pm Co-­hosted by West Metro Fire Rescue and Wheat Ridge Fire Protection District Location: West Metro Training Center 3535 S. Kipling St. Lakewood, CO 80235 A direct look into suicides within the fire service. Download: FFBHA West Metro-Wheat Ridge Suicide Awarness workshop.pdf

Trumka Visit Update Saturday October 11


Dear Colorado AFL-CIO Executive Board and Affiliate Leaders, Next Saturday, October 11th, is the last Saturday before Colorado voters receive their mail ballots. Simply put we need you, your member volunteers, your officers, executive boards, your staff, business agents and organizers out on the streets helping to get out our vote.