CPFF Foundation Website Down.
Please forgive any confusion you may have experienced while attempting to access the CPFF Foundation website.  It is currently under construction, if you have any questions please feel free to contact the CPFF President, Mike Rogers, at rogers@mail.cpff.org or (303) 884-6614 or Randy Glanville at (303) 884-4956 or rglanville@q.com.  Thank you for your patience and understanding.
Read More...
GOV. SIGNS FIREFIGHTER COLLECTIVE BARGAINING BILL
Hickenlooper signs SB 25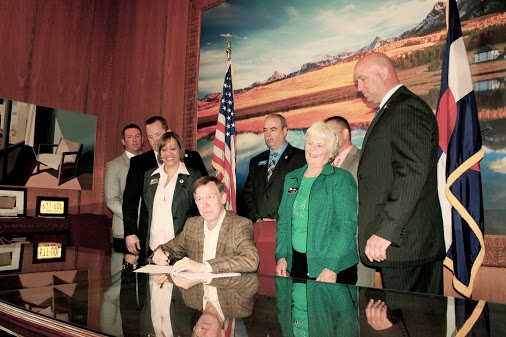 On June 5th 2013, Gov. John Hickenlooper signed into law Senate Bill 25, to give firefighters political rights protection, a mandatory seat at the table on safety issues and a collective bargaining process across the state of Colorado. Mike Rogers, President of the Colorado International Association of firefighters issued the following statement:
We were very pleased to attend a bill signing with Governor Hickenlooper on SB 25 that finally gives political rights, a seat at the table and a collective bargaining process to all firefighters across the state of Colorado. We worked collaboratively with the Governor's office and other stakeholders to craft a bill that works for everyone and that protects the safety and livelihoods of our first responders. We look forward to working closely with the Governor's office moving forward as we implement the bill and very much would like to thank his office for their support, their collaboration, and their willingness to negotiate and come up with a solution.
Save the Date


March Delegate Meeting will hosted by Longmont on March 11, 2014 at 10:30am.
FD CARES Community Health Presentation


Littleton Fire Rescue will be hosting a presentation from Mitch Schneider on how Kent Fire has developed a Community Health Program called FD CARES. This is a great opportunity for locals here in Colorado to come get an education on what is happening with the ACA and Health Care reform and how it will reshape fire based EMS systems all over the country. Download: FD CARES FLYERfinal.pdf

20/20 Lasik Benefit


WELCOME TO CPFF's LASIK BENEFIT PROGAM OFFERED BY ONE OF COLORADO's PREMIER LASIK PROVIDERS 20/20 INSTITUTE You and Your Immediate Family Members Will Receive the Following- All Members of CPFF AND their immediate family receive access to 20/20 Institute's World Class LASIK Experience, including: 1. Download: Lasik[1].pdf