GOV. SIGNS FIREFIGHTER COLLECTIVE BARGAINING BILL
Hickenlooper signs SB 25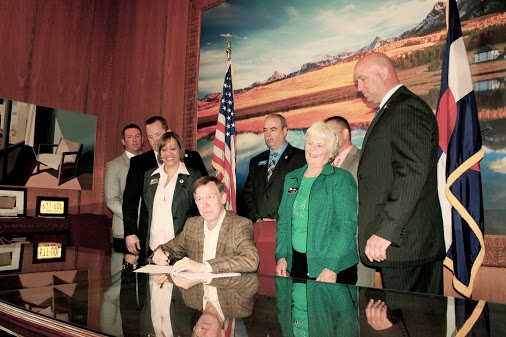 Yesterday, Gov. John Hickenlooper signed into law Senate Bill 25, to give firefighters political rights protection, a mandatory seat at the table on safety issues and a collective bargaining process across the state of Colorado. Mike Rogers, President of the Colorado International Association of firefighters issued the following statement:
We were very pleased to attend a bill signing with Governor Hickenlooper on SB 25 that finally gives political rights, a seat at the table and a collective bargaining process to all firefighters across the state of Colorado. We worked collaboratively with the Governor's office and other stakeholders to craft a bill that works for everyone and that protects the safety and livelihoods of our first responders. We look forward to working closely with the Governor's office moving forward as we implement the bill and very much would like to thank his office for their support, their collaboration, and their willingness to negotiate and come up with a solution.
Local 3 Pueblo's Annual Dodgeball Tourny


Local 3 Pueblo's Annual Dodgeball Tourny, December 14th. It's a great time. Double elimination format. 1 female and first responder per team required. Best team name and best costume awards. All phone numbers are area code 719. Download: Dodgeball.jpg

Cancer! A growing concern in the Fire Service


Denver Firefighters Local 858 and the Colorado Professional Firefighters with assistance from the Denver Fire Department present: "Cancer! A growing concern in the Fire Service" This class presented by Ret. FF. Keith Tyson, from the Firefighter Cancer Support Network, discusses some of the health issues within the fire service, but in particular cancer. Download: Cancer Presentation Flyer word[2].pdf

20/20 Lasik Benefit


WELCOME TO CPFF's LASIK BENEFIT PROGAM OFFERED BY ONE OF COLORADO's PREMIER LASIK PROVIDERS 20/20 INSTITUTE You and Your Immediate Family Members Will Receive the Following- All Members of CPFF AND their immediate family receive access to 20/20 Institute's World Class LASIK Experience, including: 1.
Colorado Voters Support Collective Bargaining For Fire Fighters By 86%


Results from a statewide survey released today by Myers Research reveals strong voter support (86%) for ensuring collective bargaining rights for Colorado fire fighters. (See attached memo.) The timely results of this survey are arriving just as a firefighter collective bargaining bill, Senate Bill 13-025, passed the Senate on Tuesday, February 6, 2013, and moves to the House. Download: FF CB Survey Results.pdf

RAY RAHNE ELECTED NINTH DISTRICT VICE PRESIDENT




The Colorado Professional Fire Fighters is very excited to announce the election of our very own Ray Rahne to the IAFF Ninth District Vice President position. Ray has spent his lifetime working diligently on behalf of his brother and sister firefighters and will now spend his time representing us on a national level.

CONGRATULATIONS RAY! WE ARE VERY PROUD OF YOU!
2012 Huge Election Victory For Working Families In Colorado


2012 elections yeilded the huge victories Colorado's working class.Many labor unions turned out volunteers and through fashion grassroots efforts the Colorado AFL CIO's political program was successful.In Colorado Democrats control governorship, the state senate, and Statehouse.