CPFF – About Us
AFL President Samuel Gompers was instrumental in the creation of a separate fire fighters union. He said "Our movement is of the working people, for the working people, and by the working people." It was with his assistance, on February 28, 1918, 36 rank and file members from 24 locals, representing 5,400 members across the U.S. and Canada met in Washington DC and formed the International Association of Fire Fighters. Today, The International Association of Fire Fighters represents 320,000 members.
The IAFF became the first labor organization for public employees. Those first local numbers were given out based on when they affiliated with the AFL and Pittsburgh, Chicago, Pueblo, Des Moines, and Colorado Springs were the first five locals.
The fire fighters joined their unions to have a larger voice, a stronger more unified front with the Fire Chiefs and elected officials in an effort to affect changes in their workplace.
In order to have a positive influence on these essential aspects of the job, fire fighters organized and became active in politics to have an effect on the elected officials making these decisions. As public employees, the fire fighters were often considered second-class citizens who protected the community, performing a dangerous job. There was an attitude shift from silent servants in the community to active participants with a loud voice as fire fighters began lobbying elected officials for change.
The general role of the CPFF is to lobby for and on the behalf of the State's professional fire fighters. Additionally, they would act as an intermediary to the International. Communications and requests for assistance from the International would be processed through the State organization.
On November 17, 1947 the CPFF received the official charter from the International Association of Fire Fighters. The original locals that formed the State Association were Pueblo, Denver, Greeley, Leadville, Boulder, and Colorado Springs.
"The CPFF's goal was to work as a unified group to improve the working conditions, benefits, and wages of Colorado's Professional Fire Fighters." (Atkinson, 2008) The ongoing services provided by the CPFF are to assist Colorado locals with negotiations, coordinate activities between locals, collect and disseminate information regarding health, safety and working conditions of locals in the state. Additionally, the CPFF maintains an Emergency Disputes Fund (EDF) that provides loans for locals involved in a dispute with its city, employer administration, or other litigation
"We support our friends and we oppose those who work against us regardless of their political party." (Atkinson 2008) Fire fighters will support those who support fire fighter issues. On those principles the Colorado Professional Fire Fighters was formed in 1947.
With the local employers having responsibility for fire fighter pensions, it at times created a financial crisis for the departments. In 1974, "As a partial solution to this local pension crisis, the (Colorado) state legislature created the Fire and Police Pension Association (FPPA) and put in its' charge an entirely new statewide fire and police pension plan." (Powers, 1986) This was done so that members would know that their pension contributions were secure, protected, and guaranteed. The funding contributions, benefit/beneficiary changes, and enhancements to this plan would be part of the CPFF lobbyists' job every year.
The CPFF lobbyist worked in support of proposed legislation on presumptive cancer and communicable diseases during the spring session in 1983. Unfortunately these issues would both be defeated this year. Even with defeat, these important pieces of legislation were re-worked and lobbied numerous times, over twenty years, before they would be successfully enacted. In 2002 Colorado fire fighters received presumptive legislation for Hepatitis C diagnosis under Senate Bill 02-006. In 2007, the CPFF lobbying efforts would be successful again in obtaining presumptive cancer coverage as House Bill 06-1008 was signed into law. Lobbying was then and still is the primary avenue used to advocate on behalf of professional fire fighters. Those priorities include worker's compensation, pension benefits, health and safety issues, that affect fire fighters.
In 2013, the CPFF accomplished it's number one legislative priority by passing a collective bargaining, meet and confer with mandatory recognition, and political rights Bill.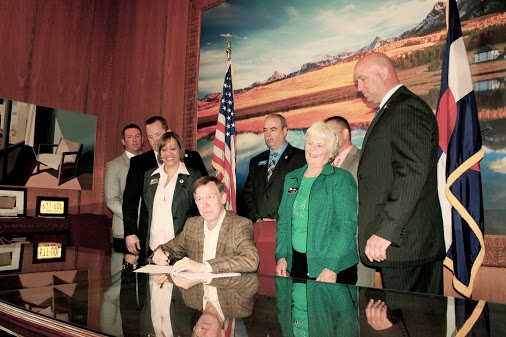 On June 5th 2013, Gov. John Hickenlooper signed into law Senate Bill 25, to give firefighters political rights protection, a mandatory seat at the table on safety issues and a collective bargaining process across the state of Colorado. Mike Rogers, President of the Colorado Professional Fire Fighters issued the following statement:
We were very pleased to attend a bill signing with Governor Hickenlooper on SB 25 that finally gives political rights, a seat at the table and a collective bargaining process to all firefighters across the state of Colorado. We worked collaboratively with the Governor's office and other stakeholders to craft a bill that works for everyone and that protects the safety and livelihoods of our first responders. We look forward to working closely with the Governor's office moving forward as we implement the bill and very much would like to thank his office for their support, their collaboration, and their willingness to negotiate and come up with a solution.
The CPFF is a State organization comprised of active and retired fire fighters working on behalf of 56 locals and over 4,800 members in the state. The primary focus is to develop, promote, and support issues that have a direct impact on the membership: political activity drives the majority of the work.
The fire service is a time-honored, respected profession in the eyes of the public; therefore, fire fighter support and or endorsement of a candidate or issue brings that credibility and respect along as well. This is why fire fighters have been involved in political action for 90 years. The IAFF and CPFF will continue to be active participants in the process, working for improvements in the fire service, for current fire fighters and generations to come.
Page Last Updated: May 01, 2019 (21:05:29)